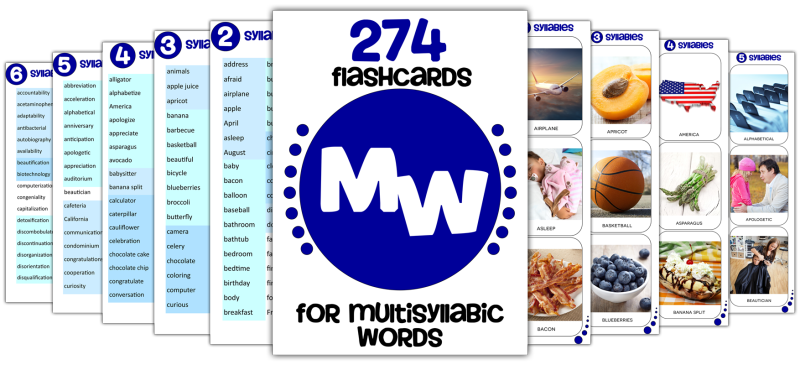 Multisyllabic Word Flashcards
for Speech Therapy
The Multisyllabic Word flashcards are simply organized and beautifully designed.
Each booklet has a detailed list of words organized by syllable (2-6 syllables). High definition, real life, picture flashcards teach concepts concretely vs. flashcards with cartoon images. 
The booklets and flashcards can be used with any activity or game to support correct practice.
They are available to use on mobile devices and can be used for quick drill in a variety of settings.
All printables come in PDF format...simply choose the sound(s) you want, instantly download, print, and go. 
*NOTE: Once you buy one or more printable, you will receive an email with a link to download the printable(s) you purchase.
If you don't receive an email, check your junk email folder.
---
To Order, Click the Image Above


★ 274 high resolution photo flashcards
★ 320 words divided into 2, 3, 4, 5, and 6 syllables
★ 38 pages of reproducible flashcards and word lists

Customers also bought...


---
Homepage

>

Multisyllabic Word Flashcards
---