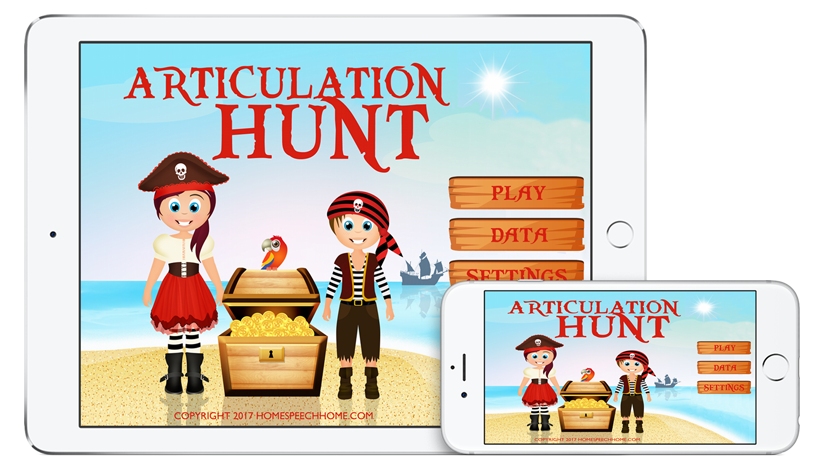 Articulation Hunt App
Ahoy Me Hearties… It's time to set sail on a pirate adventure!
You won't want to stop practicing your speech as you hunt for lost treasure in this addictive, action packed gaming experience.
Articulation Hunt includes sound targets for 25 sounds including blends (L [6], R [7], and S [7] blends) and Vocalic R (AIR, AR, EAR, ER, IRE, OR).
In order the entire list consists of (B, CH, D, F, G, H, J, K, L, BL, FL, GL, KL, PL, SL, M, N, NG, P, Q, R, BR, DR, FR, GR, KR, PR, TR, AIR, AR, EAR, ER, IRE, OR, S, SK, SL, SM, SN, SP, ST, SW, SH, T, Voiced TH, Voiceless TH, V, W, Y, Z, ZH).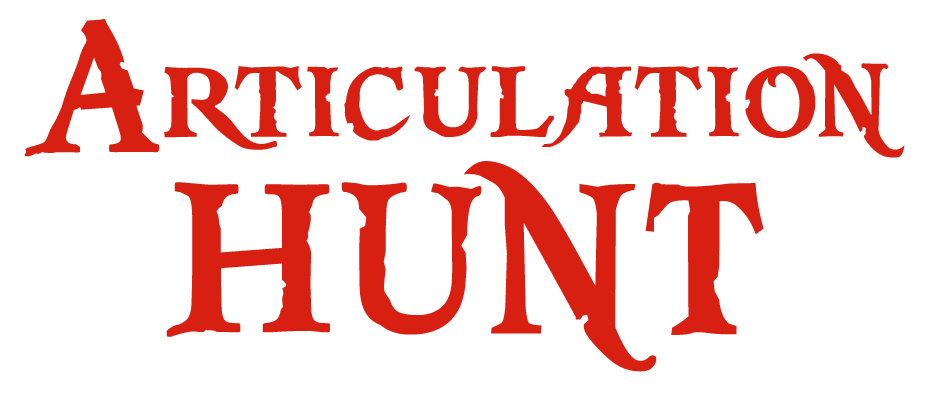 ---

App Preview

What others are saying...
---
---

See how it works...

---

Game Play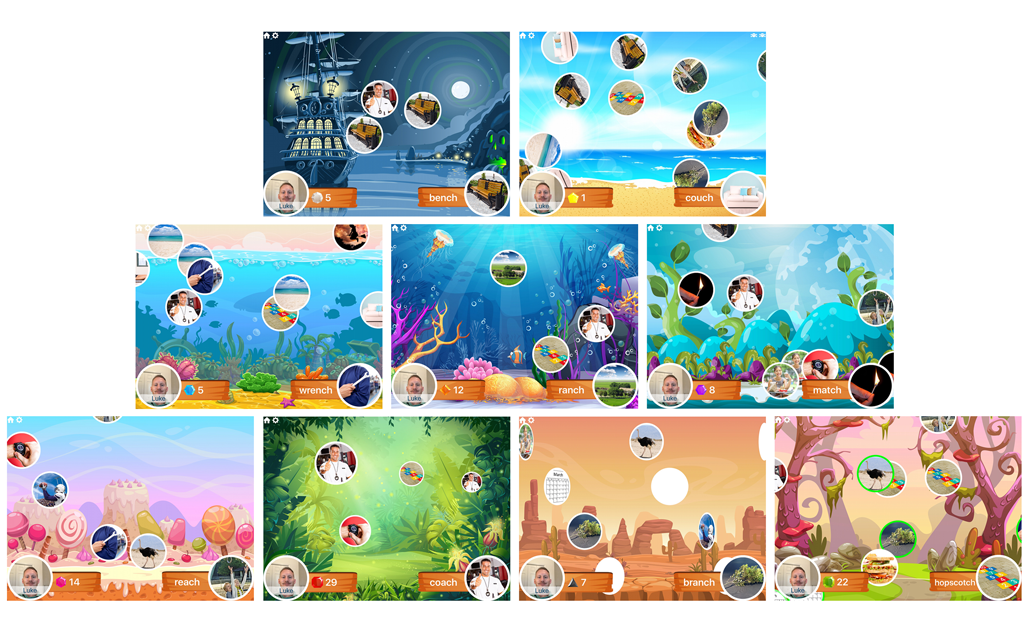 Travel as a pirate through 9 make-believe lands as you say and tap the correct speech cards, uncovering a lost jewel under each one.
Be warned, cards flip, float, bounce, disappear, fall, grow, and spin so don't tap the wrong ones! Else ye pirate skulls will collect and your jewels will be lost.
If ye be fearing this game is all play and no work, ye need not worry! 
Every 3-5 jewels, each lad or lassy must practice an individualized target word for multiple repetitions.
Can you avoid the poisoned cards in the Creepy Forest and catch the disappearing cards in Pirate Cove? Can you slice the speech cards in the Magical Sea to win the game? It's like 9 pirate games in one!

So what are you waiting for?
Do you have what it takes to unlock all the lands?
Floating cards in Sunken Treasure


Falling cards in Candy Land


Growing cards in Enchanted Forest


Disappearing cards in Pirate Cove


Bouncing cards in Beanstalk Heaven


Flipping cards in Scorching Desert


Spinning cards in Crystal Beach


Poisoned cards in Creepy Forest


Slicing cards in Magical Sea

Track Progress


Complete with voice activation and data collection, the practice screen gives every pirate the feedback they crave as they say the pictured articulation word and stars light up. 
Data is saved to each pirate's speech report and the pirate adventure continues! That's not all though! Each time 50 jewels is achieved, a surprise land is unlocked with a new exciting card action.
*Note: Voice activation in Articulation Hunt does not detect correct productions. It responds to speech sound. A therapist is still needed to teach and reinforce correct technique.

Easy to play yet challenging to master at the highest speed, Articulation Hunt makes boring speech practice a thing of the past! Your little lads and lasses will want to play this game and they will accumulate treasures of speech productions at the same time. 
Designed and developed by certified Speech Language Pathologists this game has it all!
Arcade game meets speech therapy! 
Multi or single player for never ending, turn-taking speech fun


3 different speeds for all ability levels


Turn off/on voice activation, sounds, and music


Variable number of speech repetitions (between 3-8 per screen)


Variable and quick ratio of play to practice time (between 3-5 cards tapped)


1800+ HD Photo Flashcard Stimuli


Bright, beautiful visuals and engaging sound


Collect data and easily send reports to show progress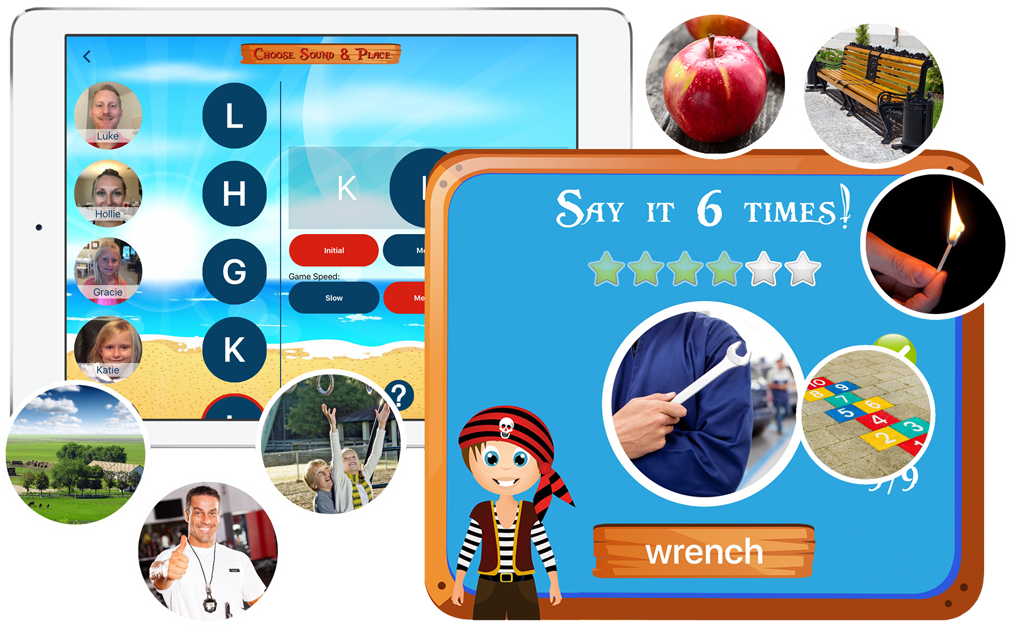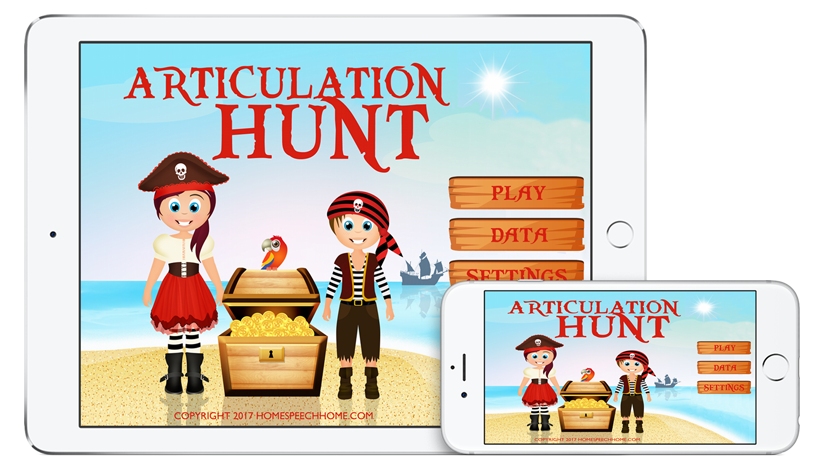 Freebies, Activities, and Specials, Oh My!
Sign up for Terrific Therapy Activity Emails
Your information is 100% private & never shared.

---
---